Getting to Know the Grants Portal
The Coalition for Home Repair has created a grants portal for members. 
We've embraced the lean impact attitude (recommended by Ann Mei Chang, author and ReFrame Conference plenary speaker) to bring you a grants portal. The first grant opportunity to use the portal will be the 2022 Impact Report. While no one on our team is a software developer, we do know what it's like to navigate a grants portal as an applicant. We've tried our best to balance your user experience, our internal data management goals, and our staff skillset to launch this portal. The portal will grow as we do. We will keep you informed of feature updates as necessary.
2022 Impact Report
Submission of this report is required to be eligible for any financial resources available to members this year. Your data helps us advocate for more funding and report back to current Coalition funders about our collective impact.
The initial deadline to submit the report was March 10; please submit it ASAP!
Funds will be released on a rolling basis, so, the sooner you submit your report, the sooner your orgranization will receive a Lowe's gift card. In addition to the Impact Report, your primary contact must complete our contact person survey.
*Click here to access the Coalition for Home Repair Funding Program portal.*
How to Create an Account:
Click Sign-Up from the Apply for a Grant page.
Once an account is created, go to the Apply for a Grant page.
Ignore the orange bar asking you to update organizational information.
Click Funding Programs.
Select Impact Report 2022.
Click Apply. 
Complete your application. 
Submit your application. 
Review submitted applications from the My Applications page.
More Imporant Information: 
Embracing the lean impact attitude, the portal isn't perfect. Please send request updates to staff and we will priortize requests as our skillset and resources allow. Thank you in advance for your patience.
After creating an account, you will notice an orange bar (pictured below) asking you to provide more organization details. Ignore this. The application itself provides us with all we need. We are working on how to remove this from your user experience while maintaining the functionality we need. 
As of now, the application must be submitted in one sitting. The ability to save applications requires some custom coding beyond our current resources. You can prepare for your submission by gathering your responses in advance. View PDF of 2022 Impact Report questions. You will be able to view a submitted application. Contactus if you need to update data after your application is submitted.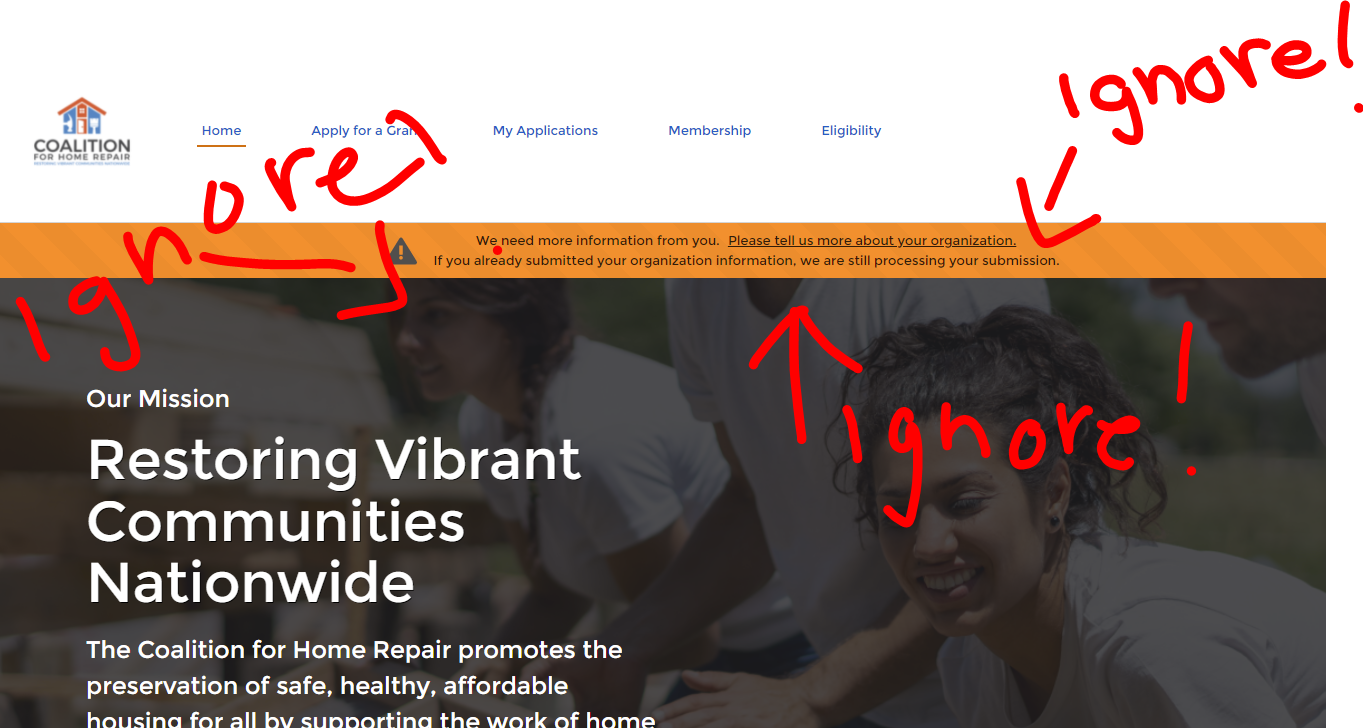 Please contact Melanie Campbell at melanie@coalitionforhomerepair.org with issues regarding the grants portal or the 2022 Impact Report.